When you visit Cedar Creek Estate, you and your guests are in for a day filled with exciting activities and memorable experiences. Our estate offers a variety of attractions that showcase the beauty of our surroundings and the unique offerings of our region.
Let's delve into the experiences you can enjoy at Cedar Creek Estate:
The Cellar Door
One of the highlights of our estate is our Chambourcin vineyard, situated right next to our warm and inviting Cellar Door, which we proudly call home to the Queensland Wine Centre. Here, you can sample our estate wines, as well as a selection from other boutique wineries in Queensland. It's a fantastic opportunity to learn and discover the rich flavours and characteristics of our region's wines.
A cosy Mt Tamborine Restaurant
The vineyards at Cedar Creek Estate offer the perfect location for a relaxing lunch. You will enjoy delightful garden settings in the Gazebo, Veranda or Deck with views of the Mt Tamborine scenery from the restaurant, or if you prefer, indoor dining in the Hamblin Room.
In winter, the Hamblin Room becomes a cosy retreat complete with log fires and hearty soups to warm you up, whilst in summer the air-conditioner gives cool relief from the Queensland heat.
The Glow Worm Conservation Project
But the excitement doesn't stop there. We take pride in our pioneering Glow Worm Conservation Project, which has created a remarkable environment where you can witness the incredible beauty of these delicate creatures during the daytime. Take a short, safe walk through our rainforest habitat and explore our Frog Hollow Exhibit, where you'll have the chance to meet a captivating collection of frogs and invertebrates.
Prepare to be enchanted by the mesmerising world of glow worms. Glow Worms are the larvae of a small fly and are known for their captivating luminescence. Our sanctuary is home to the local species, Arachnocampa flava, found exclusively in rainforest areas of southeast Queensland. As rainforest habitats in Australia face threats from climate change and human impact, our sanctuary provides an ideal controlled environment for the glow worms, minimising negative effects on our local rainforest.
Witness these magical creatures up close and learn about their fascinating life cycle. As a self-guided activity, you can also explore Frog Hollow, a small wildlife exhibit featuring various frog and invertebrate species found locally.
Wine Tasting
Immerse yourself in a warm and inviting atmosphere as you embark on a journey of wine discovery. Our Cellar Door welcomes all visitors with open arms, offering a wide range of white, red, and fortified wines. Experience the flavours and nuances of our estate wines, or venture into tasting the best wines from eight of Queensland's leading wineries at the Queensland Wine Centre. Enhance your wine appreciation by exploring our range of wine accessories.
Please note that we are closed on Good Friday and Christmas Day, and availability may be affected on ANZAC Day, Easter Sunday and Monday, as well as Mother's Day. Kindly check and confirm availability for these dates.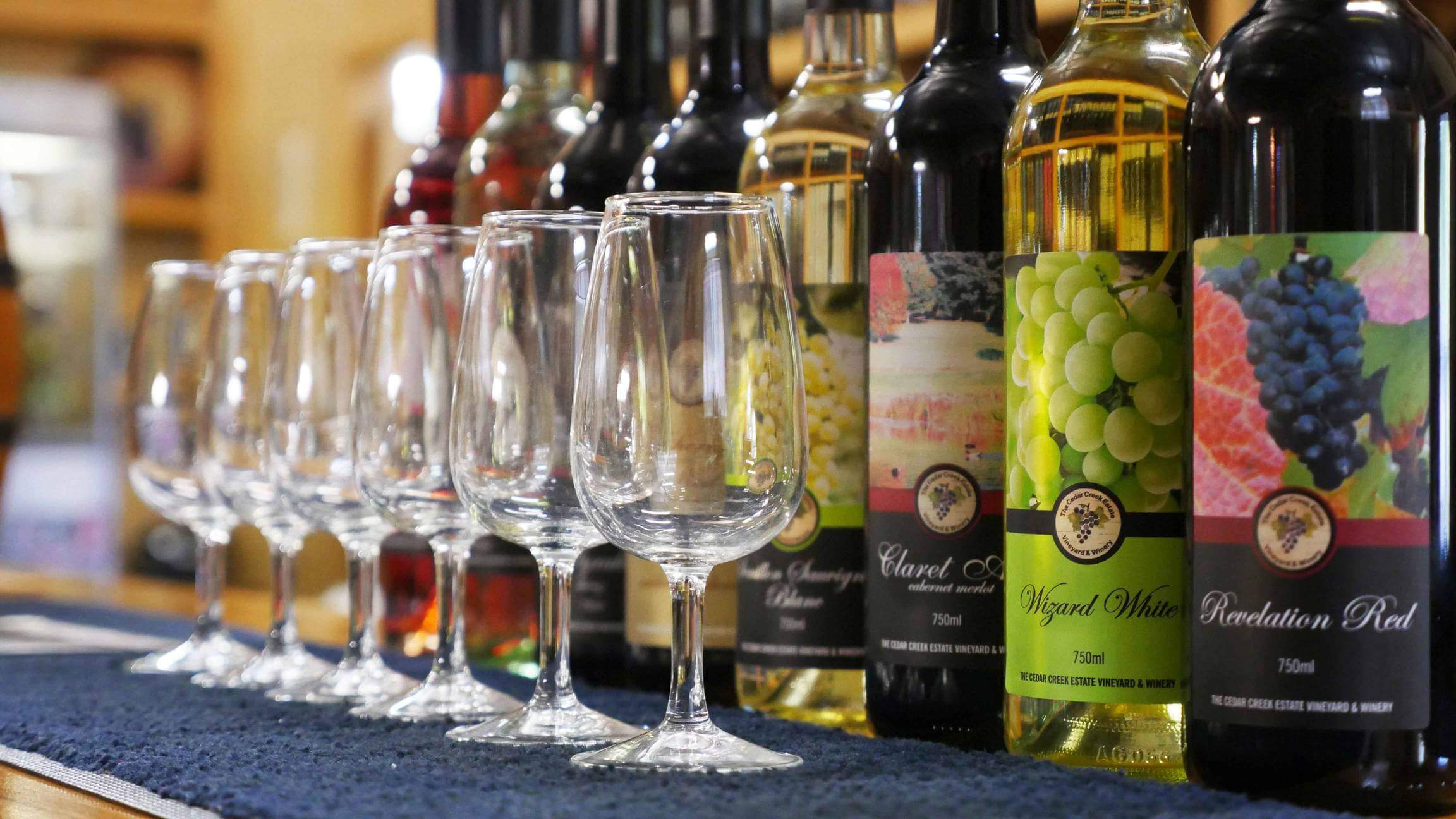 Trading Hours
We are open from 10:00 am to 4:00 pm, seven days a week. Please note that we are closed on Good Friday and Christmas Day. During busy periods, such as the Easter long weekend, Boxing Day to the first week in January, school holidays, and public holidays, we recommend allowing extra time for your visit.
We look forward to welcoming you to Cedar Creek Estate, where you can indulge in the finest wines, explore the wonders of glow worms, and immerse yourself in the beauty of our rainforest habitat.
Plan your visit today and get ready for an unforgettable experience!
To enhance your experience and make your visit even more enjoyable, we offer packaged menu options that provide great value, accompanied by our friendly service.
Planning ahead? Be sure to check out our Facebook page, and Instagram accounts for additional information and updates.